The ULTIMATE Two Day Mastermind Event To 10x Your Online Business
Are you ready to scale your affiliate business, grow your online profits, and become a high achieving entrepreneur?
At the Commission Hero Live Mastermind Event, you'll work directly with Robby and his team to help you maximize profits, level up your campaigns and take your online success to new levels and learn what it takes to be a super affiliate.
In Just Two Days You'll Learn To…
Dominate Facebook and how to find secret "profit" niches
Say goodbye to account shut downs
How to get consistent $1k+ days
Turn this "side hustle" into full time
Why Attend? Here's Why…
Learn the "New Way" to set up your campaigns to maximize profits and ROI while reducing account shut downs.
How to find, test and scale little known offers that are killing it right now and how you can start promoting them.
The "4 step" copywriting process that I've been using to stay compliant, scale hard and dominate on Facebook.
Breakdown of my entire "playbook" of how I've been able to generate over $2 million with Clickbank offers this year.
Get the opportunity to have your campaign evaluated by Robby and his team live and in person.

3 Bonuses When You Attend Commission Hero Live
BONUS 1
Landing Pages
Get 3 of my never before released landing pages that have made me over six figures on each landing page this year…they are yours for FREE.
My team will walk you through the entire set up of these landing page so you'll leave with them ready to run!
Learn how we design our pages to maximize conversions and lower shutdowns.
BONUS 2
Offers
I've worked out exclusive deals for everyone that attends Commission Hero live with a few offers that very few people know about (or are allowed to run).
You'll get a commission bump, instant approval and in these two days you'll be able to run them right away.
These offers are super high converting and have minimum Facebook account issues.
BONUS 3
Ads/Copy
Get never before seen ad copy that I've only used personally in my own campaigns that converts like crazy.
Brand new Image "Pack" of some of the highest converting images I've been using this year!
Some of my little known "illustration videos" that will crush it for you and your campaigns!
Last Day To Register $2,997
Testimonials
"I had never run an ad before and now I'm making sales and close to my first $1k day!"
Carly, Commission Hero Student
"After just a few weeks I had THREE $1k days in a row!"
Matt, Commission Hero Student
"This week I've had my first $230/day, it keeps getting better!"
Gordana, Commission Hero Student
"So far this week I've made over $30,000 in sales!"
Jorgen, Commission Hero Student
"I just had my first $10,000 sales in 1 week!"
Jeff, Commission Hero Student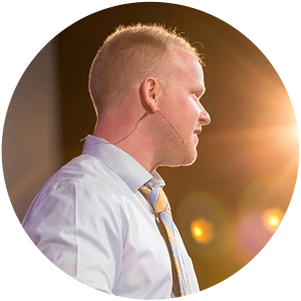 Your Host Robby Blanchard
Four short years ago Robby was a struggling gym owner with no online business or experience. In order to be successful, Robby knew he had to take his business online. He started to teach himself Facebook ads and was able to use this skill to not only become one of the top Facebook Advertisers in the world, but he also used this skill to become the #1 Clickbank Affiliate in the World. Robby is the owner of Blanchard Media which works with some of the top brands and influencers in the world. Robby is also the Creator of Commission Hero which is a global brand helping people generating life changing income online.