2021 Will Be The Biggest Year Yet for Online Business Owners — And THIS is the ONLY Event That Will Prepare you for the RUSH of New Business!

The ULTIMATE Two Day Virtual Mastermind Event To 10x Your Online Business
Are you ready to scale your affiliate business, grow your online profits, and become a high achieving entrepreneur?
At the Commission Hero Mastermind Event, you'll work directly with Robby and his team to help you maximize profits, level up your campaigns and take your online success to new levels and learn what it takes to be a super affiliate.
In Just Two Days You'll Learn To…
Have Even More Success in 2021
Dominate Facebook with Advanced Setups for Ad Accounts, BM's, and Profiles
Say Goodbye to Ad Account Shut Downs
Get Consistent $1k+ days online
Turn This "Side Hustle" Into An Income Stream that DWARFS Your Salary
Here's Why Commission Hero Online Event is THE Must-Attend Event of 2020:
You'll discover the "New Way" to set up your campaigns to maximize profits and ROI while reducing account shut downs.
You'll get insider access to the least known, most profitable offers AND learn the ultimate ways to promote them.
Between my team, my guest experts, and myself, you'll have a "brain trust" of the highest-paid minds in affiliate marketing.
I'll reveal the "4 step" copywriting process I've used to stay compliant, scale hard, and dominate on Facebook.
You'll have the opportunity to have your campaign evaluated by Robby and his team.
Guest Experts Include…
Grant Cooper "Commission Hero Coach"
Tommie Traffic "You Tube Expert"
Matt Harmon "Native Ads"
Patrick Bade "Commission Hero Coach"
Sean Mabry "Copywriting Expert"

5 Bonuses When You Attend Commission Hero ONLINE Virtual Event
BONUS 1
Full Recordings of Commission Hero Virtual Event
Skip taking notes, sit back, and enjoy the event
Never miss that ONE "Aha" moment that could add an extra zero or two to your Clickbank account
$497 VALUE
BONUS 2
Full Recordings of Last Year's Event
See how today's $1k per day earners got their start
Get DOUBLE the profit-boosting wisdom of Commission Hero Live for just ONE ticket
$997 VALUE
BONUS 3
Ad Copy Swipe File
Plug in and get paid with proven, high-converting, Facebook compliant copy from top-performing affiliates.
Get inspiration from the best in the biz whenever you decide to write your own copy.
$997 VALUE
BONUS 4
DFY Platinum Pack
Access over 8 of my best ever campaigns that have EACH made me over $100k in profit.
Each campaign includes done-for-you Ad Images, Landing Pages, Ad Copy, Targeting, and Custom Audiences.
$797 VALUE
BONUS 5
Professional Notes
Have step-by-step instructions after the event when it's time to implement these 6 and 7 figure strategies.
Easily search for that ONE keyword right when you need it most.
$497 VALUE
VIRTUAL EVENT SPECIAL $997

Testimonials
"I had never run an ad before and now I'm making sales and close to my first $1k day!"
Carly, Commission Hero Student
"After just a few weeks I had THREE $1k days in a row!"
Matt, Commission Hero Student
"This week I've had my first $230/day, it keeps getting better!"
Gordana, Commission Hero Student
"So far this week I've made over $30,000 in sales!"
Jorgen, Commission Hero Student
"I just had my first $10,000 sales in 1 week!"
Jeff, Commission Hero Student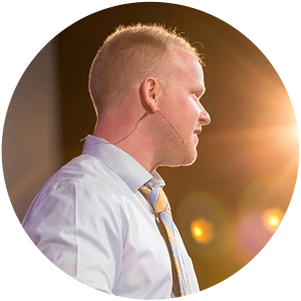 Your Host Robby Blanchard
Five short years ago Robby was a struggling gym owner with no online business or experience. In order to be successful, Robby knew he had to take his business online. He started to teach himself Facebook ads and was able to use this skill to not only become one of the top Facebook Advertisers in the world, but he also used this skill to become the #1 Clickbank Affiliate in the World. Robby is the owner of Blanchard Media which works with some of the top brands and influencers in the world. Robby is also the Creator of Commission Hero which is a global brand helping people generating life changing income online.